MinetteFraise
Hello! Here you can find links to my galleries, email, commission prices + Terms of Service
About Me
Hi! I have many name options to pick from: Nessa, Strawbs, Strawberry, Minette or Fraise! <3

I am a freelance artist and have been doing so since I was about 17. I mostly do anthro work, but also like to draw humans, monsters and so on. I specialize in the very cute! I love adorable images, cute clothing and adore pink.

This website is here to keep all information in one place. You can find links to my galleries to follow my art, my price list, what I will and will not draw, my terms of service, what I'm currently working on, and even a mailing list to be notified of future commission openings!

If you ever have any questions, please do not hesitate to contact me at [email protected]
About my Name
My name is in French!

Minette: Kitten/Kitty
Pronunciation: tinyurl.com/3txes7ya

Fraise: Strawberry
Pronunciation: tinyurl.com/js22jcb8
Support me on Patreon!
❤ How to get a commission from me ❤
Best method: Join my telegram, discord or email mailing list for notifications on commission slot openings.

I'm trying to no longer post journals or tweets and focus on the options above. You can always email me about a commission slot but it's not guaranteed I'll have one available.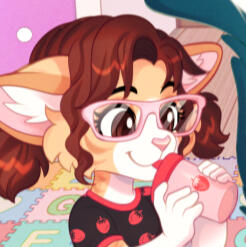 Current Queue
Hi! I am currently using Trello as my queue as I think it's easier to use. I haven't deleted things here in case I come back to my website.

Click here for my trello queue!
♡ I work on multiple commissions at once. So I do many "sketches" in one go, or if I need a break from a large commission, I do something smaller. Often small commissions, like icons, are done in between the large commissions.

♡ Since I send in sketch, inks, etc for approval, I have to wait on that, so I work on others while I wait :3

♡ Queue order is not always accurate. I add people as they get a slot, but it may change based on when they've paid.

♡ I update this list as soon as I can but I'm not perfect, and there's time differences. If the status is wrong, or it's still "waiting for approval" when it isn't, don't worry! Give it a few days before you poke me to see if something is up.
General Commissions
| Username | Pose | Sketch | Inks | ♡ Final ♡ |
| --- | --- | --- | --- | --- |
| - | | | | |
Busts
| Username | Sketch | Inks | ♡ Final ♡ |
| --- | --- | --- | --- |
| - | | | |
Icons
| Username | Sketch | Inks | ♡ Final ♡ |
| --- | --- | --- | --- |
| - | | | |
YCH's
| Username | Sketch | Inks | ♡ Final ♡ |
| --- | --- | --- | --- |
| - | | | |
Furaffinity Links
Other Galleries
---
Commission Prices
♡ I am currently only offering coloured works with slight shading! A bit of an in-between of my flat colours and shaded pieces.
♡ Prices are estimates and may increase depending on character complexity and idea.
♡ Prices are per character
♡ Prices are in USD currency
♡ Icon vs Bust: They are done in about the same amount of body (sometimes icons are close ups of the face), but busts are drawn on a large canvas and can fit more details. Icons are square and busts are usually rectangles. For example, if your character has large ears, it will be cut off in the icon but be shown in a bust.
♡ Icons ♡
Simple Color - $40
♡ Bust ♡
Simple Color - $50
♡ Head to Hip ♡
Simple Color - $70
♡ Full Body ♡
Simple Color - $90
♡ Plushie - Style Varies ♡
Simple Color - $60
♡ My Little Pony ♡
Simple Color - $40
♡ Ref Sheets ♡
Starts at $180, includes front and back view
+ $80 per extra full body image
+ $10 per clothing set
♡ Backgrounds ♡
Between $5-$40
| ♡ Telegram Stickers ♡ CLOSED | |
| --- | --- |
| From the bases | $20 per sticker |
| Custom (I will only do 5) | $25 per sticker |
| Complex characters/Edits to bases | +5-10 per sticker |
Current Available bases! Custom stickers will also be turned into bases for personal and commission use.
My bases are a bit on the feminine side, keep this in mindStickers are chibi and less detailed then my general art
I'm ok drawing LOTS of subjects not listed here, so please feel free to ask! This is just a fast guide for frequently asked subjects.

I love variety! While I have a loved themed list, I like drawing things outside of it too.

"Will Draw/Less practiced" - A list to be aware that it may not be as nice or as accurate as other images. These themes are also less likely to be accepted as commissions, but as I do like variety, I do pick them too!
✓ Will Draw ✓ - General Themes
Any anthro species
Any body shape (slender, chubby, etc)
Humans/Humanoids
MLP (Feral or Anthro, in my own style)
Pokemon (in my own style)
Adult Characters
Babyfurs/Toddlers - In normal sized diapers
Pooltoy/rubber characters
Transformation
Age Regression
Mild gore - More so candy gore
Fat furs (size limit)
Pregnancy
✓ NSFW Will Draw ✓ - Adult Characters Only
Porn
Unrealistically sized diapers
Adults in diapers/baby clothing/etc
Bondage
Pet play/slave/etc
Hypnosis
Diaper changes
Breastfeeding
Humiliation
Very mild Vore
Feeding
Tentacles
Pregnant while in a porn image
Spanking
~ Will Draw but less practiced ~
~ Armour
~ Guns
~ Weapons
~ Ferals
~ General Vore/Mouth close ups
~ muscle
~ mechanical, prosthetics, Cyber, etc
~ Macro/Micro
♡ Loved Themes ♡
♡ Pink
♡ Cute clothing
♡ Crystals
♡ Witch
♡ Ocean/Marine animals
♡ Magic/magical girls
♡ Kids just being kids, playing, drawing, etc
♡ Halloween
♡ Strawberries
♡ All species! But rarely get to draw: Bunnies, equines, cows
♡ Lolita
♡ Pin ups
♡ Beach/lake
X Will Not draw X
Sexual/NSFW images of underage characters
Adults and kids wearing diapers together
Diaper changes on underage characters
Unrealistically large diapers on underage characters
Scat/Watersports Or Dirty/Wet diapers
Diapers on ferals, feral MLP, etc
Diapers/fetish/adult fanart (ex: Rarity from MLP)
Child-looking characters in NSFW/fetish situations, even if actually an adult.
Character dying, suicide, etc (memorial, ghosts, etc is ok!)
Incest
Hyper in general
Offensive or racist material
Tentative: I like to avoid religious themes
♡ I reserve the right to interpret your character in my own style. This includes things like tweaking colours a bit and possibly changing the shape of markings slightly in order for them to wrap around the form and lineart in an appealing way. In no case will I change things so much that the character is unrecognizable, and I will keep specifics like a certain number of spots or stripes the same.My art is very light/bright, dark colours will be lightened quite a bit.
♡ This varies by commission, but expect a fee of 25%-50% of the commission price for a private commission. A private commission takes away my rights, for example: I cannot use it as an example for further business, in art bundles or used as prints at conventions so the fee is there to replace that. If you require art to be removed later on, the fee will be on the higher end as I will then need to take time to remove it from all my online galleries.

♡ "Anonymous" commissions are different, the art is posted, with your name removed, and that is free to do!
♡ Payment is due up-front before any work has begun.PAYPAL ONLY. No e-cheques.Please have full payment/info ready within 48 hours of your commission being accepted. If payment is not provided promptly, your slot may be given up to another at my discretion.
Payment Plans
♡ I currently do not accept payment plans. But when I do, I offer half and half: Half payment upfront, half the work done, then the next half paid and the commission finished.
Refunds/Cancellations
♡ Neither parties are obligated to give a reason for cancellation.

♡ If work hasn't started then I will give you a full refund.

♡ If the client cancels the commission and work has been done on the commission then I will refund you the amount for what I have not done. ex: If I've done the sketch I will keep payment for the sketch and refund the rest that is not done

♡ .If the artist cancels you will receive a full refund no matter how much work has been done, unless the artist was forced to cancel due to client behavior.

♡ Artwork is non-refundable once complete. Any concerns must be brought up during the commission process as I send you things to approve.
Commission progress, edits and alterations
♡ All commissions other than sketches/coloured sketches will receive progress updates. A sketch and then inks to approve, unless otherwise stated on the commission opening information.

♡ I sometimes send multiple pose sketches for you to pick from before a sketch is done.

♡ Generally I do not allow any more then two large alterations (unless they are my mistakes) before asking for compensation, but this is subject to vary depending on the project, size of the alterations and amount initially paid.

♡ Sketch redraws from my mistakes: If I made a mistake with the information you provided, I can redraw the sketch for free.

♡ Sketch redraws from client change of mind: If you were given poses to pick from, and after the sketch decided you'd like it different, there may be a fee to do so. For something small (ex: Changing arm positions), it may be free or a small fee. If you'd like the whole thing redrawn in a new pose/angle/etc then you will be charged for a new sketch. Unless discussed that multiple sketches would be needed before starting this commission.

♡ If your commission does not have pose sketch approvals: Most edits will be free unless you decide you'd like idea B instead of idea A that you gave me.
♡ These is often a $5 charge for fixes that are the clients mistake. For example, not sending me the correct references.
Turn Arounds
♡ If a deadline is not set, expect 2-6 weeks (business days), but time taken can vary greatly depending on a multitude of factors --complexity, communication, how many people are ahead of you in my queue, real life matters, etc.
Deadlines
♡ If you need something done by a certain date, I require at least two weeks (business days) notice. Furthermore, if you do want to set a deadline, please be clear about this and make sure I have agreed to said deadline.

♡ A deadline must be set before you send payment. Fees may apply for deadlines, it depends on project size vs time I have to complete it.

♡ If I miss a deadline, I will refund you in full and finish the commission, if you would like the commission still finished.

♡ If I miss a deadline due to you, like slow responses, you will not be compensated and the commission will be finished as normal.
Getting art with other people's characters
♡ You will need to pick one person who will be communicating with me, I will only work/email with one person.It is that person's responsibility to make sure all parties receive progress updates I send and to deliver their requests for changes to me.

♡ I cannot fix things after the commission is finished if you did not ask for the changes the other party wanted.

♡ I may ask you for proof that you have permission to use this character if nothing on your galleries show you may know each other. You don't need to spoil the surprise of who you're commissioning, I just need a screenshot of them giving you approval.
Contacting me and Asking for Updates
♡ If you have any questions, concerns, or are just curious about your commission's status, feel free to e-mail me at sbpawprint[at]gmail.com.

♡ However do make sure to check my commission queue, it'll likely answer your question the fastest!

♡ If you are waiting on a commission, I ask that you wait at least 7 business days after each update before asking for another, unless there is a deadline.
Telegram Sticker Commissions
From Bases
♡ These do not have approval stages as they already have an inked base. I may send you one finished sticker to double check it's correct though.
♡ This means that base lines are pre-approved. If you would like the lines changed, it must be said ahead of time or there will be a fee to fix it.

Customs
♡ You will receive a sketch and inks for approval on these.
♡ Custom stickers will be turned into bases for personal and commission use.

Other
♡ Sticker commissions are posted online. My private commission fee still applies, or you can chose to be anonymous for free.
♡ It is your responsibility to upload the stickers to a telegram pack, so I cannot make it for you. There are many tutorials online though! :3
♡ When uploading, must include my "made by" sticker as well.